In this week's holiday gift guide you will find something for everyone on your list. It's always a challenge to stay on budget over the holidays and it is so easy to get tempted and forget the reason for the season. 
Forget the hype, chillax with the beverage of your choice and get inspired by this week's picks for Cool Gifts for Ten Dollars or less.
Would you believe these cool candle holders are
only $3.95 ea at www.cb2.com
Think of the possibilities, hang one or several, display them in sets of three's or five's for impact and go wild with your own cool decorating ideas for these
tea lights or cool LED lights in all colors
sand and seashells in the summer
flowers in the spring
for now add Christmas decor in blue and silver or whatever matches the recipient's decor
or just give them as they are
- clear and beautiful -
to light up those cold dark winter nights!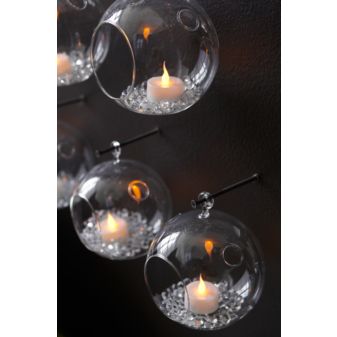 By the way cb2 stands for crate and barrel 2.
Not your grandma's candle holder
made from cast iron - it can take a tumble
your choice of silver, green or cool blue
Elf candle holder - $5.95 ea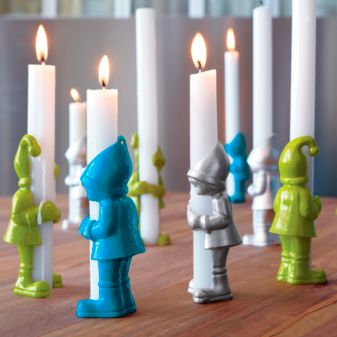 I also loved their clear glass peace sign and cool disco ball ornaments at 3.95 ea - cheap - chic and very retro:)
 
The book selection at amazon.com is overwhelming,
especially if you are looking for something specific.
Here are a couple of ideas
For the dog lover on your list
Wholesome home cooking for your doggie 
Chow Hound at www.amazon.com
new from 5.99 at the time of this posting
Note: regular price $12.95
 
For anyone on your list planning a baby shower,
a fancy engagement or wedding
or anniversary
Here is a gift they will appreciate!
Bonus: the photographs also include inspiring table settings for any special occasions.
www.amazon.com $ 9.95
25 creative and fun ideas for napkin folding
Baby booties for the baby shower sounds cool to me ... swans ...
Here is an excerpt of one of the reviews on www.amazon.com
http://www.amazon.com/Napkin-Origami-Creative-Ideas-Folding/dp/1402752954
Fun ideas for entertaining, but to also amuse little ones on rainy days. I liked the variety of designs, ..... An iron is quite helpful. The diagrams are detailed and easy to follow, even for the more complex folds. Having a finished photograph is an additional help in showing various table settings as well.
 
Looking for a fun hostess gift
or a good luck gift for a new home owner
or maybe you just want to make bath time with the grand kids more fun ...
A cool - fun - fool the eye gift!
Unscented - clear glycerin soaps, yup, including the baggie look and the bow:)
The fish inside are plastic, everything else is made from clear glycerin soap. Glycerin is good for your skin too, so no worries there.
Aren't these fun?
$5 ea at a great website called www.justbubbly.com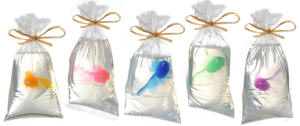 I also loved their PMS survival kit for ten bucks and for those into astrology a soap bar embedded with your zodiac sign for only five bucks, perfect if you are creating a special gift basket for a good friend:)
 
Ending on a sweet note .........
Here is a yummy chocolate gift from www.target.com
Scrabble Chocolate Edition - $10.
 
Oh, I almost forgot to add in an easy, cool DIY gift idea.
Perfect for your kids too
Pretty and practical, my favorite mantra:)
In our circle of friends the kids always create one handmade gift for everyone, it's a  great tradition since it instills the idea that Christmas is all about gifting from the heart. 
Instructions for DIY: Flower Magnets
Instead of letting vintage brooches gather dust in your jewelry box, turn them into refrigerator magnets: Use a pair of needle-nose pliers to remove the pin hardware from the back of each brooch (most fittings will come off easily); then affix a superstrong magnet with a small bead of glue — we used Gorilla Super Glue. Let dry overnight. This small touch gives your fridge a nice mini face-lift.
To see project photos and more projects from Country Living click below

Read more: DIY Home Decor - Ideas for DIY Home Decorating Projects - Country Living
I like their idea of re-cycling old jewelry - it would look cool on my fridge.
PS a little money saving tip - I always get those shopping lists with the magnet on the back to put on my fridge ($1 at the Dollar Store or at Michael's)  - well, just re-cycle and re-use that magnet when you're done with the list.
 
I hope you were inspired by this week's holiday gift guide and
liked the easy DIY project for you and the kids.
 
See you next Friday for more ideas for
 Cool Gifts for Ten Dollars or less.
 
Nov 28, 2011 © Rose Hill All Rights Reserved
Image sources - target.com, amazon.com, cb2.com and justbubbly.com